Maintenance Service
Inspection and maintenance for industrial machines
Water treatment equipment delivers its performance by normal functioning of each of the various related equipment combined. It is expected that the occurrence of a failure or deterioration in functioning will require a large repair cost or cause many other difficulties such as system breakdown. For example, in a plant, the manufacturing process may be disrupted.
However, failures and functioning deterioration can be prevented by daily management and periodic inspection and maintenance. We also recommend periodic inspection and maintenance to prolong the life of machinery and eliminate abrupt pairing costs.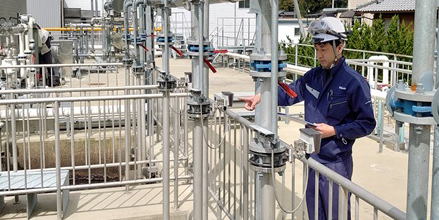 [Examples of maintenance implementation]

Blower inspection and maintenance
Pump inspection and maintenance
Filter media replacement work
Inspection and maintenance for wastewater treatment equipment
Chemical cleaning work for refrigeration air conditioners
Water treatment related chemicals
Water treatment delivers its performance by a flexible combination of equipment, chemicals and engineering. We propose safe, low-cost chemical treatment by selecting equipment and chemicals appropriate for water quality and purpose of use, in addition to professional know-how and skill.

[Examples of chemicals for wastewater treatment]

Dehydration materials and coagulants
Oil treatment agents
Volume reducing agents for excess sludge
Bulking sludge coagulators
Nitrification inhibitors
Antifoaming agents
[Examples of chemicals for water/process water production equipment]

Iron-removal filter agents
Manganese-removal filter agents
Anthracite
Purified sodium hypochlorite
hemical-cleaning chemicals for drinking water
[Various chemicals]

Polyaluminum chloride
Ferric chloride
Aluminum sulfate
Sodium hydroxide
Other industrial chemicals
Industrial Instruments / Instrumentation Equipment / Analytical Equipment
Water treatment equipment consistently requires optimum operation management by collecting information from various measuring equipment regarding checks on normal operation, exertion of optimum performance and whether the operating method is appropriate.
By total weight control, measurement is mandatory for some items. We propose measuring equipment and monitoring systems designed from the standpoint of the operation manager.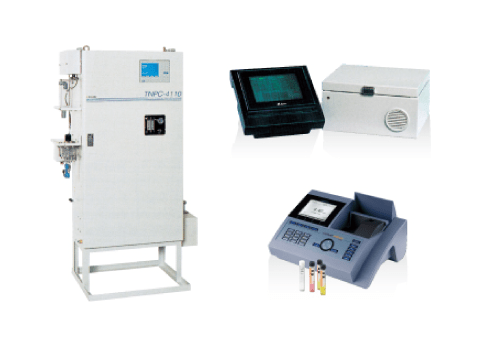 [Industrial instruments / Instrumentation equipment]

DO meter
MLSS meter
pH meter
UV meter
T-N·P meter
Flowmeter
Load amount calculation system
Remote monitoring system
[Analytical equipment]

Multipurpose water quality measuring equipment
Portable water quality measuring equipment